The Juneau 4-H Nordic Ski Club's Recreational Program runs for 10 weeks from January 19 through March 22, 2020. Any students in Grades 1 through 12 are invited to sign up! Families are encouraged to participate in ski practices.
Prior experience is not required to participate; all ability levels are welcome! The only expectations are a positive attitude and participation! Practices are every Sunday, 1:00 – 2:30 PM.
The club offers an optional Wednesday practice, 4:30 – 6:00 PM, for Middle School athletes who might want to ski competitively in the future and are looking for more time on skis! This is a great opportunity for anyone interested in joining the Juneau Nordic Ski Team (JNST)to build skills and experience!
The club operates under the local 4H cooperative extension and in partnership with the Juneau Nordic Ski Club. Students must register for both the Nordic Ski Club and Juneau 4H!
Total Cost: $150. Scholarships are available, please reach out for more details.
Cost Breakdown: XC-Ski Rental $50; Activity Fee $75; 4-H Registration Fee $25
Register Before The End Of December!
Juneau 4-H Nordic Ski Club Online Form
For questions about the Nordic Ski Club, please contact Mo Michels: (907)-903-2307 or [email protected]
Juneau 4-H General Registration Online Form
For assistance with Juneau 4-H registration, please contact Susie Wilkie: (907) 523-3280 or [email protected]
Registration will be capped at 30 skiers, so first come, first served!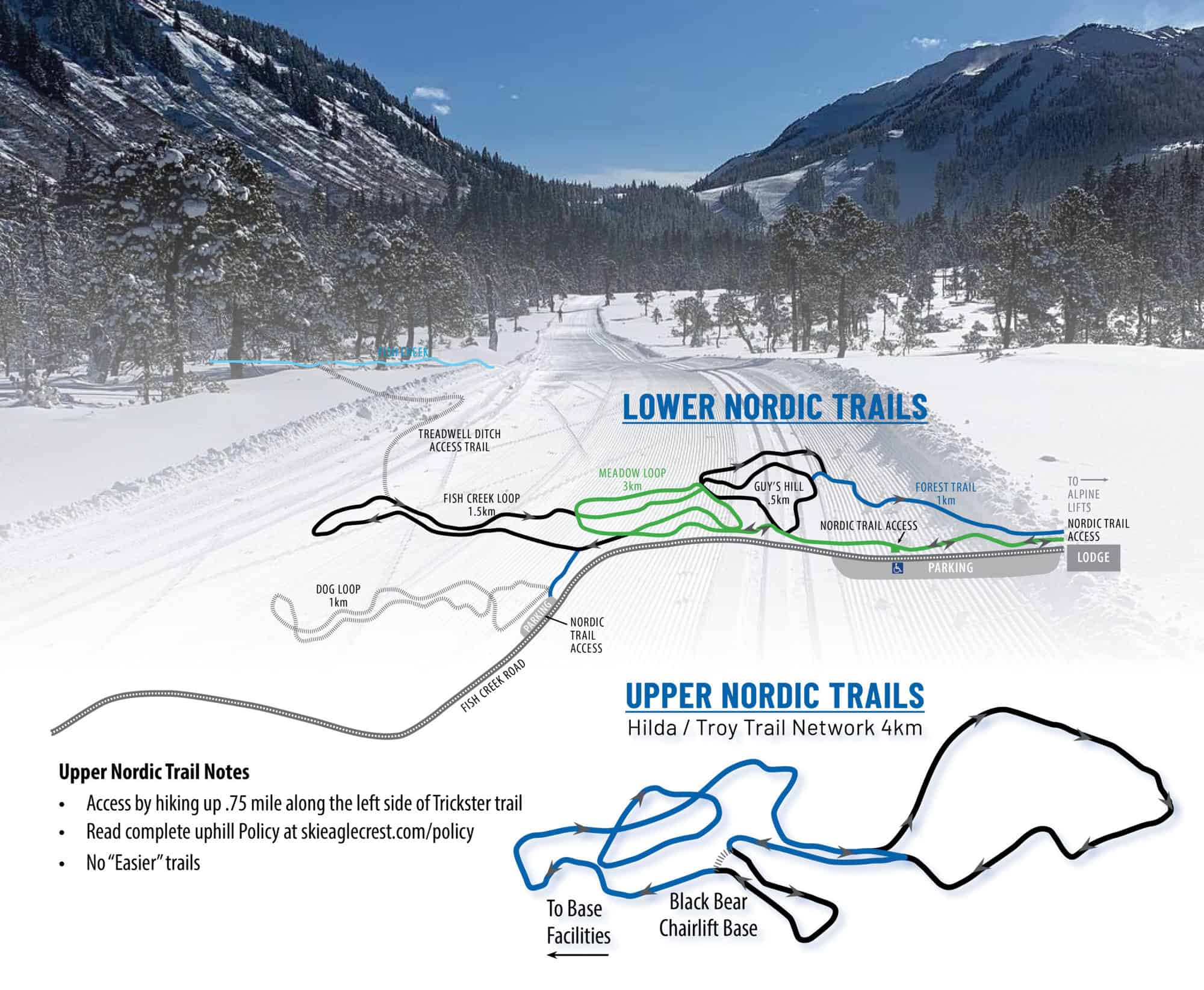 NORDIC SKIING IN JUNEAU
Eaglecrest has over 10km of Nordic trails through the Upper and Lower trail networks. Also, through various agreements, the Juneau Nordic Ski Club (JNSC) grooms trails over 100 days per season in two parts of the Mendenhall Glacier Recreation Area (MGRA). The JNSC also regularly grooms Montana Creek Road and assists Eaglecrest staff in grooming the ski area's trails.
The JNSC is a 501(c)(3) non-profit organization funded and operated entirely by volunteers, membership dues, and donations. The mission of the JNSC is to promote cross-country skiing through youth development, trail development and trail maintenance in the Juneau area. Each groomed kilometer costs approximately $10 for gas, snow machines and grooming equipment, repairs, insurance, etc. Please become a member and donate today!
Equipment & Lessons
Foggy Mountain Shop sells and rents both skate and classic-style cross country skiing equipment. Customers may take rental equipment on any of the Nordic trails in the Juneau area. Eaglecrest Ski Area offers Nordic lessons and class-style equipment rental for use on Eaglecrest's Nordic trail system.
Used equipment may be purchased at Second Wind Sports and the annual Juneau Ski Sale!